Perfectly-integrated Solution for PoE IP Camera and NVR System
With its 36Gbps high-performance switch architecture and 300-watt PoE power budget, the recorded video files from the 16 PoE IP cameras powered by the GSW-1820VHP are saved in the 16-channel NVR systems or surveillance software in the monitoring center for possible backup references.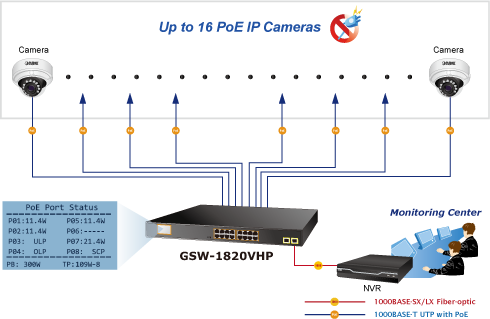 Ideal PoE Switch for All Enterprises
Providing sixteen 802.3at PoE+ in-line power interfaces, the GSW-1820VHP can easily build a power that centrally controls IP phone system, IP camera system and wireless AP group for enterprises. Cameras can be installed around the corner in the company or campus for surveillance demands. Without the need for power sockets, the GSW-1820VHP makes the installation of cameras easier and more efficient.